Wesley Hill
Remembering My Friend Chris Mitchell

1
of
3

view all
July 2014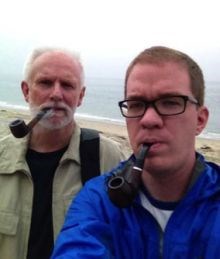 When I stepped off the train in Oxford, Chris was standing there in the station waiting for me, his face breaking into its characteristic goofy grin when I landed on the platform, but he didn't stay still longer than it took to give me a tight hug. He pivoted as soon as he released my shoulders, grabbed one of my bags, and sped toward the rental car. We were already late for the adventure he had planned. We were going to drive from Oxford to the little village of Wolvey in Warwickshire, roughly 115 kilometers away, to look for a tombstone.
When Chris was growing up in Oregon, his family employed an Englishman named William Alcott Bailey as a part time gardener and handyman. Chris learned the value of hard work, he said, from Bailey. He learned how to work with his hands and see a yard project through to its finish, but, even more, he learned how to take ownership and pride in his work. He learned those things, specifically, from Bailey. And now, in between his other responsibilities in the UK, lecturing and researching for a new edition of one of C. S. Lewis' books, he wanted to go looking for Bailey's grave, as a way of paying tribute to someone that, in retrospect, he viewed as essential to the arc of his childhood. He knew Bailey had spent his childhood in Wolvey, but that was about it. Whatever leads he had had petered out there. We'd just have to look for the tombstone, assuming that Bailey would have wanted to be buried where he grew up.
I wish I could capture the simultaneity of Chris' fiercely serious fixation on this task and his boyish, smiling enthusiasm for being on a quest. It wasn't unusual for him—that combination of zeal and playfulness is what had made me want to be friends with him from the beginning—but it was what made Chris unique. And I wasn't the only one who loved him for it, but, nonetheless, I treasured the feeling that this particular glimpse into it was mine. This was a special trip for just the two of us, a way for me to learn more about my friend's upbringing and to delight in what made him happy.
We never found William Alcott Bailey's grave. We traipsed around the overgrown C of E parish cemetery, uncovering some Baileys that Chris was convinced were his Bailey's relations, but as far as we could tell, there was no "William Alcott." Undeterred, we went to the pub anyway to toast him. At the Blue Pig just down the road—I still remember sitting across from Chris at our table by the window, with the glint of summer evening sun caught in our pint glasses—we hoisted our ales "to William Alcott Bailey and his good memory." Afterwards, we lit pipes and walked the length of the empty fields behind the pub and talked. The conversation was vigorous, spirited, meandering, as it always was with Chris, with both of us talking over each other at various junctures, stalled only by moments of concentration for an occasional relight.
Chris later said that trip to Wolvey cemented our friendship. I inwardly beamed whenever I heard him tell the story—as I did many times in the intervening years—to others.
That was the summer of 2008. Six years earlier was when I first met Chris. I was in my second year as an undergraduate at Wheaton College, and I'd just read The Lord of the Rings for the first time. Chris was a scholar of Tolkien (and the other Inklings), and, with all the cheek of youth, I sent him an email asking if we could get together and talk about Middle Earth. "Be prepared for a whirlwind of energy when you meet Chris," my English professor told me, chuckling, when he heard that we were going to have lunch.
We met in the college dining commons. As I recall, there weren't many preparatory pleasantries—I doubt Chris learned that day what year I was, what I was majoring in, or where I was from—because we dove right in. Within minutes he was talking animatedly about the Ainur and Ilúvatar and Genesis and the Protoevangelium, and, almost as soon as it began, our hour was up. I promised to email Chris again.
The next time we met, again for lunch at the college dining hall, we picked up where we left off. I talked about the theology I was reading (N. T. Wright's narratival biblical theology) and how it might connect to Tolkien's vision. Chris talked about his reading of Genesis 1-2 and what he interpreted as the primal human hunger to be echad (he always used the Hebrew)—to be "one" with each other and reunited with our Creator. I confided in him my thoughts about how to harmonize the Genesis text and evolutionary biology, thoughts I wasn't sure would be welcome with certain others at Wheaton, and I remember him saying, "Of course you're thinking about evolution, because it's a narrative!"


1
of
3

view all