Matthew J. Milliner and Brett Foster
"The Dark Dove with the Flickering Tongue"

1
of
3

view all
August 2013
For much of this year, the multimedia project QU4RTETS has drawn lovers of art, music, and literature to galleries and lecture halls at Baylor University, Duke Divinity School, Yale Divinity School, Gordon College, and now Wheaton College. The project, inspired by T. S. Eliot's great work of religious poetry, Four Quartets, consists of collaborations by painters Bruce Herman and Makoto Fujimura, who contribute four paintings apiece, and an original musical composition by Christopher Theofanidis, along with responding essays in an exhibit catalogue by the likes of Jeremy Begbie and others (including one of the present authors). Both authors had the opportunity to make a few remarks on Four Quartets the poem and QU4RTETS the show at its opening reception at Gordon recently, and had the following impressions to share. The exhibit is now on display at Wheaton College, and can be visited daily there through September 22.
An event with artist Bruce Herman will take place at 3:30pm on Saturday, September 21st at the Billy Graham Center Museum.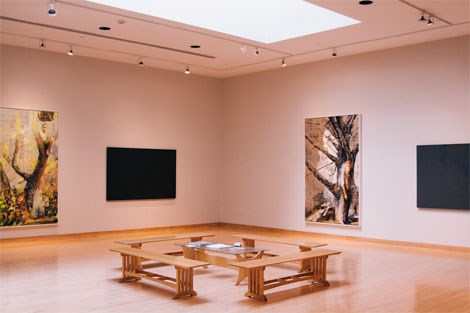 Matt: Considering the current (overblown? perpetual?) "crisis" in the humanities, it is disorienting to note that Eliot's lecture on the frontiers of criticism filled a University of Minnesota football stadium in 1956. Nobel laureate T. S. Eliot was the "Pope of Russell Square," who was even once driven through the streets of Rome to droves of students crying Viva Eliot! As one of his biographers put it, he was simply "Great Tom." Eliot now, of course, is deeply unfashionable, and the precipitous nosedive of his literary fortunes is something of an injustice. Anthony Julius' notorious booklength indictment, T. S. Eliot, Anti-Semitism and Literary Form, has been thoroughly upended (by Jewel Spears Brooker, Ronald Schuchard, and John Xiros Cooper, among others). They point out that the anti-Semitism of Mark Twain, Charles Dickens, Virginia Woolf, and D.H. Lawrence is far more explicit and consistent than the four brief passages from Eliot's pre-conversion poetry that are repeatedly cited by the prosecution. Eliot is on record insisting, "I am not an anti-Semite and never have been …. [I]n the eyes of the Church, to be anti-Semitic is a sin." Somehow, though, alongside the fabricated notion that everyone thought the world was flat before Columbus, the myth of Eliot's anti-Semitism endures. One way, then, to explain the excitement surrounding the QU4RTETS project is relief that Eliot is again gaining the hearing he deserves. In fact, these works exemplify exactly the kind of art Anthony Julius himself called for in a different context: "anti-transgressive art, one committed to the construction of criteria rather than the breaking of taboos."
But having reflected upon the poem in relation to these paintings for the past year—including close contact in the last months with them at Wheaton College—I've come to realize that a vigorous defense of Eliot, let alone an attempt to restore him to his literary throne, would be out of spirit with his poetry, nor is this what the QU4RTETS project is about. Eliot's ascendency is not something he would have jealously defended. Rather, he warned of fascination with "eminent men of letters" for their own sake, which is to say, he warned against exactly the kind of universal adulation that he once enjoyed. "I no longer strive to strive towards such things," the converted poet tells his readers in "Ash Wednesday." Eliot, all too aware of his faults, complained that the "fools' approval stings, and honour stains." Or as "East Coker" puts it, "Do not let me hear / Of the wisdom of old men, but rather of their folly." Perhaps the collapse of Eliot adulation is the very kind of purging that Eliot tries to guide his readers through in his greatest poem. So, thank you, Anthony Julius, I guess.
Standing in front of the Quartets-inspired paintings in person for the first time at Gordon College, looking into the faces that Bruce Herman has painted and the bright darkness conveyed by Makoto Fujimura, it struck me that these painters have learned the same lessons of purgation. Mako's attachment to Four Quartets came out of 9/11, not to mention the destruction of many of his works in Hurricane Sandy just as QU4RTETS began its tour. Likewise, Bruce's lifelong grappling with the poem (he has large swaths of it memorized) is connected to a freak fire where nearly all of his paintings and the home that he built were incinerated. If Eliot's poetry and these paintings mean to "teach us to care and not to care," it therefore seems appropriate to examine Eliot as we did not in a football stadium, but in exile of sorts—quietly tucked away at beautiful Gordon College and now Wheaton, paying homage to a poet who has been stripped of his literary epaulettes.


1
of
3

view all