Thom Satterlee
A Cup of Blood
May/June 2012
Many of us who follow the poetry of John Leax were surprised by the publication of Tabloid News (WordFarm, 2006), and with good reason. In his previous three collections (Reaching into Silence, Shaw, 1974; The Task of Adam, Zondervan, 1985; and Country Labors, Zondervan, 1991), Leax had established what you might call the boundaries of his work. Whenever the word "I" or "me" appeared in a poem, readers could assume that Leax referred to himself, more or less, as much as one might when trying to render personal experience into verse. His poems appeared to be truthful accounts of his life as a husband, father, gardener, fisherman, woodsman, and Christian college professor; they reflected his interests in the family, the environment, and spirituality. But then, seemingly out of nowhere, came Tabloid News, a collection of poems based on the headlines of tabloid newspapers and bearing titles like "Meet the Amazing Half Man Half Pig," "I Want to Have a Space Alien's Baby," and "Bizarre Creature Spotted in Louisiana Bayou." For the first time in his poetry, "true-to-life" yielded to "truth-of-the-imagination"; in fact, it more than yielded, it got abducted by a ufo piloted by Leax himself, who appeared to be having a lot of fun flying around in his new spaceship. If the first question to ask about Tabloid News is, "Where did that come from?" the next logical question must be, "What will he come up with next?"
In Recluse Freedom: Poems 1990-2010, Leax provides answers to both of these questions. Spanning twenty years, the collection shows us that long before Leax dropped the personal for the persona, he was already trying new things with his verse. The book's first section, "Writing Home: 1990-2002," includes poems on family life, a frequent subject for Leax, but written in modified blank verse (sometime four beats, sometimes five). In adopting this form, Leax speaks in a more narrative voice than in much of his previous work. "Homecoming" tells of events that permanently altered both the poet's and his father's life.
In the beginning there was war,
and my father, hardly more than a boy,
was called. Because he had no church
to witness to the peaceful heart
that spoke a living word within
his chest, he went, and he became
a silent man. In the chasm
of his obedience I fell,
plunged with my first steps
into the wash of blood—a slash
of milky glass split my face from nose
to cheek and left me just one eye to watch
for his return ….
… [O]ne April Sabbath in 1945,
his Easter prayers still moist upon his lips,
he drove into a tomb empty of all purpose:
thirty-thousand creeping skeletons,
inhuman, massed like insects behind a fence,
nine-thousand heaped bodies, bone-rubble,
stacked, meticulously accounted for
in the dark books of Dachau order,
disordered every word he knew ….
Following a chronological order, the poems of "Writing Home" recollect the poet's years of growing up—his crush on a girl, his first Communion, the earliest awakenings to his vocation as a writer—and continue into his years of marriage and fatherhood. "19 Torpey Street," titled after the address where Leax has lived since the 1970s, includes this dialogue from an older man who is cutting firewood with the poet: "'Growing up, / I knew one work—getting ready for winter. / That's life. You get ready. You suffer the cold. / You get ready again.'" At first, these words might seem merely comical and folksy, but they point to a recurring theme in the book: somehow we must all come to terms with suffering (whether it's the loss of an eye or a haunting image that stifles speech) and prepare for our own winter, our death.
And yet suffering and the anticipation of death do not weigh down these poems. Leax's is not a poetry of hand-wringing or gloom-saying but of seeing clearly and recording accurately, particularly moments of harshness. Take for instance "Dance," the first poem in the section "Bright Wings: 1995-2005." The poet watches what he believes is a single dove kicking up snow and "leaving the yard / imprinted as if by angel wings" only to discover that instead of one bird, there are actually two, and they are locked in what at first appears to be a dance but in reality is a killing. The poem concludes,
… And then the dance came round.
A sharp-shinned hawk looked up.
He shifted, stabbed the snow,
lifted a winter-olive goldfinch
in his beak and flew.
I stood in the window. The emptied
footprints filled with light.
The poet doesn't deny what he's seen or try to soften it. Instead he shows us the image of how one creature yielded to death, allowing the scene (if we wish it) to become part of our own preparation.
"Recluse: An Adirondack Idyll," the book's third section and dated 2004, two years before the publication of Tabloid News, reveals another way in which Leax has experimented with form. Here the "I" still seems to be John Leax, a college professor who's spending a semester overseeing an environmental studies program and living with his wife in a cabin on Star Lake. The poems chronicle his reading of Chinese poets and his reflections on the environment, but their form is different from anything Leax has used in the past. For this section, he's combined prose poems with brief, formally repeating lyrics. My favorite prose poem from this section is a dream-retelling titled "Climbing Arab in My Sleep"; among the many strong lyrics, I especially enjoyed "Star Lake Morning" and "Proximate Thoughts."
The poems written after Tabloid News, the ones that tell us how Leax's dramatic break with the personal voice affected his later work, appear in the book's last two sections: "Walking the Ridge Home: 2007" and "Flat Mountain Poems: 2008-2010." Having read Leax's poetry since the mid-1980s, when I was his student for four years at Houghton College, I confess that I have never enjoyed and admired his work as much as I did while reading the poems in these last two sections. I found myself stunned by their lucidity, wisdom, humanity, mature spirituality—and, yes, even by their authenticity, despite the fact that the "I" and the "me" of these poems are likely imaginative constructs that wouldn't always answer to the name "John Leax." They would sometimes, but not always. They're too free, I think, to care.
"Walking the Ridge Home" is a seven-part poem, minimally punctuated and making frequent use of caesuras and line breaks to imitate the physical act of hiking through a snow-covered forest. Each part begins with a brief quote from Scripture. The speaker is a mystic, a spiritual pilgrim profoundly connected to his environment, addressing himself to God in prayers of praise and petition.
Snow imperturbably cold
like a leather collar
on the back of my neck
when I release the branch
from my hand
The inclusive silence of the wood
contains the day's vernacular
as the sky contains the silver light
O how can I know you
how comprehend what mystery caused
you to speak once in word
and once in flesh
O So Close Disclosing
Knowing If Not Known
I am all longing
Speak
The final section of Recluse Freedom has, in my opinion, the book's best poems and owes its existence to the work that started with Tabloid News. Without first allowing himself the freedom to write persona poems—speaking in the voice of a duck hunter who's shot an angel, or a commercial fisherman describing a merman caught in the South Pacific—it seems unlikely that Leax would ever have written the "Flat Mountain Poems." Here the poems occur in a space that is both real and unreal, and are spoken by someone who is both John Leax and not John Leax. Readers will simply have to trust the poems as they unfold. To give us a little orientation, the section begins with this description of Flat Mountain: "The geography of Flat Mountain has never been described. It can be located on no map. Existing nowhere and everywhere, it rises, as Thoreau said, wherever one is enabled to apprehend within the perpetual instilling of illusion the real."
On one level, Flat Mountain is in Fillmore, New York, where John Leax lives, visited by his neighbor's children ("Children wander Flat Mountain without thinking"), receiving the help of a friend ("A friend brought us firewood in autumn"), or remembering poets whose life and work influenced him ("I find my mind drifting / to thoughts of three old poets // who were bread and wine / a sweet communion to my youth"). But don't expect to remain in a realistic landscape for long in these poems. In "Flat Mountain Lost and Found" we're told that "Bears rake blueberries / with gentle claws / and growl approvingly / when one approaches empty / of voracious thought." Perhaps one of these same bears appears in "Flat Mountain Dream," in which the speaker of the poem looks up from weeding (in his garden? at the base of Flat Mountain?) to see a man who may be his father, but maybe not, calling out to him to warn of an approaching bear:
The bear keeps coming.
The bending man cannot hear
the voice calling out. It is his dream
and he knows the older man who he sees
looks like his father has been long dead
and can say nothing
the living can hear.
Is the old man living?
Is the bear real?
Of course the bear is real.
The man is living his dream.
He is happy looking over,
Loving the silent man offering the bear water.
The mystery of this non-spatial, non-temporal "Flat Mountain" deepens with each new poem. We learn, for instance, that "Flat Mountain tends itself. Rain falls. / Leaves renew the soil. Seeds blow in / from everywhere, plant themselves and grow"; that no one owns Flat Mountain, but instead "We visit by invitation. / We stay by grace"; and that on Flat Mountain "Getting lost is not an option."
Is Flat Mountain the Kingdom of God? Maybe it is, but not in any simplistic sense. In the anxiously charged poem "4 A.M. Meditation on the Baptism of Christ," the speaker confesses "agitation" and "restless tossing after sleep." He describes dreams of "nightmare politicians" and "swimming bears [that] tire and drown / in the rising tide of money money money." The poem ends in broken sentences and with a complicated figuring of Christ's baptism. "What have I to hold // against this dream?" the speaker asks himself, then answers,
… A cup of cold water.
A cup of blood. Crumbly bread
and the poverty of hope. Christ Jesus
floating, swimming, going down.
Was Jesus baptized, or did he just drown? I'm not sure that an earlier John Leax poem would have allowed such ambiguity—and yet how authentic to the struggles of faith this poem feels. It reads like a psalm of despair, paradoxically comforting.
In "Flat Mountain Folly" Leax does something else that I don't remember him ever doing in a poem before: he presents a physical image of God. Using the inclusive "we" and writing in the future tense, the speaker tells us that we will one day meet the owner of the mountain, who "will be weeping there. / Around him trees will be lifting up / their leaves in praise."
His weeping we will know
to be his joy at our inclusion,
and our hands lifted up
will be leaves
in the light of his presence.
Oh it is good. It is good.
And the same can be said of Recluse Freedom—it is good that John Leax has freed himself from former constraints in his verse; it is good because doing so has allowed him to write his best poems to date.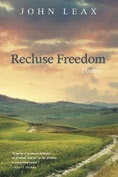 Recluse Freedom, Poems 1990-2010
John Leax
WordFarm, 2012 128 pp., $18
Thom Satterlee, poet and translator, is Writer-in-Residence at Taylor University. His most recent book is a translation of the Danish poet Per Aage Brandt, These Hands (Host Publications).